Resources for Educators
In this section we provide useful information, articles, websites, and models that professors will be able to implement in their classrooms. Here are some examples of what you will find on this site now and what we plan for the future: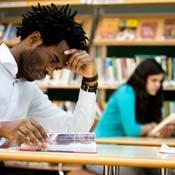 Student Diversity Advocates/ Activities
Multicultural Theatre
Multicultural Experiential Training Experiences
Multicultural Curriculum Resources
Pedagogy of Multicultural Teaching
Multiethnic Community Tours/ Exhibits
Ethnographic Research
Links to other Multicultural Programs/ Resources
Multicultural Blogs and Chat rooms
The navigation bar to the left provides a list of resources for educators which will be periodically updated and expanded. The first few links contain general information regarding diversity in the classroom. The links further down the list present more specific educational materials and strategies.
Here are some examples of useful resources...
The National Association for Multicultural Education (NAME)
An organization bringing together individuals and groups with an interest in multicultural education from all levels of education, different academic disciplines and from diverse educational institutions and occupations. NAME hosts national and international conferences, and provides leadership in national and state dialogues on equity, diversity and multicultural education.
Association of American Colleges & Universities
AAC&U is the leading national association concerned with the quality, vitality, and public standing of undergraduate liberal education. Its members are committed to extending the advantages of a liberal education to all students, regardless of academic specialization or intended career. Founded in 1915, AAC&U now comprises 1,200 member institutions—including accredited public and private colleges and universities of every type and size
Since 1971 AAC&U has developed initiatives that bring together faculty and institutions of higher learning to provide national leadership that advances diversity and equity in higher education, and the best educational practices for an increasingly diverse population. AAC&U understands diversity and equity as fundamental goals of higher education and as resources for learning that are valuable for all students, vital to democracy and a democratic workforce and to the global position and wellbeing of the United States. AAC&U's commitment to make excellence inclusive—to bring the benefits of liberal education to all students—is rooted deeply in commitment to a diverse, informed, and civically active society.
Materials and resources from AAC&U have been used to create the Intercultural Learning Initiative, which is being developed by many universities around the country, including Kansas State University.