Washington, DC
United States Holocaust Memorial Museum
The United States Holocaust Memorial Museum (USHMM) is the United States' official memorial to the Holocaust. Adjacent to the National Mall in Washington, D.C., the USHMM provides for the documentation, study, and interpretation of Holocaust history. It is dedicated to helping leaders and citizens of the world confront hatred, prevent genocide, promote human dignity, and strengthen democracy.
The National Museum of the American Indian is part of the Smithsonian Institution and is dedicated to the life, languages, literature, history, and arts of the Native Americans of the Western Hemisphere. The museum's sweeping curvilinear architecture, its indigenous landscaping, and its exhibitions, all designed in collaboration with tribes and communities from across the hemisphere, combine to give visitors from around the world the sense and spirit of Native America.
The NMAI cares for one of the world's most expansive collections of Native artifacts, including objects, photographs, archives, and media covering the entire Western Hemisphere, from the Arctic Circle to Tierra del Fuego.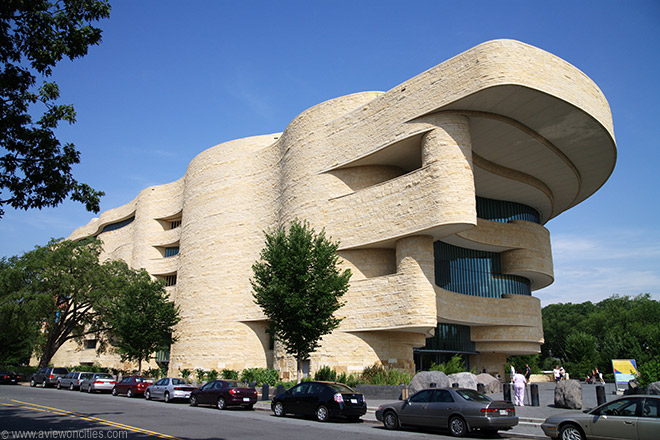 National Museum of African American History and Culture (NMAAHC)
The National Museum of African American History and Culture (NMAAHC) is a Smithsonian Institution museum established in December 2003. The museum's building, designed by David Adjaye, is on the National Mall in Washington, D.C. It has close to 37,000 objects in its collection related to such subjects as community, family, the visual and performing arts, religion, civil rights, slavery, and segregation.[1]
Early efforts to establish a federally owned museum featuring African-American history and culture can be traced to 1915, although the modern push for such an organization did not begin until the 1970s. After years of little success, a much more serious legislative push began in 1988 that led to authorization of the museum in 2003. A site was selected in 2006. The museum opened September 24, 2016, in a ceremony led by U.S. President Barack Obama.